How to Succeed in Network Marketing Step by Step | Part 1.

Do you ever wonder why some people find success so quickly in network marketing and some don't, even when they're exposed to the same training?
It's because it's more than just what you do, it's how you do it.
How to succeed in Network Marketing?
You can succeed in Network Marketing by doing a series of actionable steps in a certain way over a sustained period of time. Doing more in a shorter time frame can help supercharge your business especially at the beginning. Let me explain...
In this short but very detailed Evergreen Blitz Training we will give you everything you need to find success in your Network Marketing business. We'll give a Step by step Network marketing Blueprint with downloads and tools to help you to learn in detail how to succeed in Network Marketing….
Table of Content
| | |
| --- | --- |
| 1.1 | How to succeed in network marketing by visualizing what you desire. |
| 1.2 | How to Succeed In Network Marketing by Increasing Your Desire. |
| 1.3 | How to Succeed in Network Marketing Using your focus list. |
| 1.4 | How To Succeed in Network Marketing using these 3 prospect list Tips |
| 1.5 | The power of drip list. |
| 1.6 | How To Succeed in Network Marketing By Mastering invites. |
| | and more…. |
Section 1. Desire Pro
How to Succeed in Network Marketing by Visualizing What you Desire.
First here's a link to some network marketing facts and figures Click Here)
'You don't get what you want; you only get what you picture!'
It's your job to find out what motivates you. Is its Fear of Loss or possibility of gain? Once you figure this out you need to use it to help you with your 'List of Whys' . your why list is a list of the reasons why you want to be successful in this industry. Your reasons 'WHY' has to have feeling and emotion behind it. It's good to attach it to something you really care about. You need to have or eventually develop a strong emotional connection to your reasons 'WHY' you do this business.
Do things that help you Visualize what you Desire.

This may mean test driving your dream car or having a walk through your dream house going out to eat at nice restaurants sometimes. What ever it is that motivates you to bring your dreams into a reality so you can see, smell and touch it.
Do things on a regular basis that keep your reason WHY in the forefront of your mind. Stick pictures up, make a vision board, frame sayings that motivate you. Write yourself a cheque with a date on it for the amount of money you desire to make based on your goals. Get creative and have fun with it! This is just so you can develop your picture of what you future looks like and build your belief to the level of your goals.
If it's the Fear of Loss that motivates you then remind yourself of things that you don't want in your life.
For example, if you are trying to elevate yourself from a certain environment that you no longer desire in your life then let that be your daily reminder and motivation to get you out of your current situation. Or if you wish you could change or help someone else with something, use that desire as fuel to get things done.
How To Succeed in Network Marketing – Question 1:
Did you take time to find out your reasons why you want to build this business?
yes
No, I didn't get to it yet
No, I don't need to I'm driven
How to Succeed In Network Marketing by Increasing Your Desire


Your must do's are the things that you must do because they will propel you towards your goals.
MUST DO'S
GET EXCITED! You have every reason to be excited and confident. The beautiful thing about this business is that 'people' are your resources and people are being born faster than money is being printed. This means you are able to work on building your business as big as you picture it, every single day with no limitations.
PICK A CHAMPION! Pick someone that is making the money you desire or has the knowledge you wish to acquire and associate with them. You can associate with these people through Books, tapes, Functions and now here on Empiremindstate.
IMPORTANT! give your best effort to make sure you don't miss any events on or offline. Events are the best way to get connected with people who are doing well and staying motivated.
Things to Remember:
Trust the process

If you do what is hard now your life will be easier later

Take personal responsibility. Recite this mantra daily; "If it's to be, it
is up to me!"

If you want things to change, you have to change. If you want things to get better, you have to get better.

Be consistent and it will all come to pass! The hard work and consistency will compound and catch up to you later!

We all have our Fears, but are you more afraid of calling people and show them the opportunity or are you more afraid of missing out on the future life you picture for yourself and your family?

Pay attention in detail to what the successful people in your organization are doing to build, then take notes and follow.

Remember, you can't say the right thing to the wrong person and you can't say the wrong thing to the right person.

The way you should look at it is, most times them saying no just means it's not the right time.
These numbers are what you can expect when recruiting, according to network marketing million-dollar earners.
Remember it's purely a numbers game!
Beginner to Artist scale
If you get 1 out 20 of you fall under (Beginner)
If you get 1 out of 10 you fall under (Network marketer)
If you get 2 -3 out of 10 a (Professional)
And if you get 4 -5 out of 10 you're an (Artist)
(PDF download at the end of the section)
NOTE: As long as you handle your prospects in the correct way according to this training, a lot of your "NO'S" will turn into "YES'S" later.
How to Succeed in Network Marketing Using Your Focus Lists
HOW TO WRITE YOUR FOCUS LISTS
Goals
Your Goals are the action-oriented things that you have to do on a daily basis in order to have your dreams or visions come to pass.
Dreams
Your dreams are your long-term visions and accomplishments. It's your picture of yourself and all the things you see your self-doing once you accomplish your goals. It may be helping your parents retire or building your DREAM house, or even paying for the best college education for your children. It could even be paying off your house and buying that car you've always wanted or giving back.
It could even be getting some time back so you can do what you love. For the bigger dreamers maybe it's bringing their ideas to life, or buying homes all over the world. Your business can be as big as you picture it. If you believe enough, and be consistent enough with this training and platform it's all possible!''
Give up temporarily
All successful people know that in order to achieve their ultimate DREAMS & GOALS certain things need to be given up. These (certain things) may come in the form of a substance that needs to be given up or a particular habit or hobby that consumes a lot of your time for example; Social media( if not for business) , fishing or TV. It may even be giving up the company of certain people that aren't the best influence and/or is negative when it comes to your progression in life.
It's not always the 'bad' or obvious things that need to be given up, it can also be things that are good for you, for example, you may need to give up some sleep in order to put some time into this business if you already work full-time elsewhere. Remember you don't have to give these things up for ever; you only need to give them up long enough to see your consistent effort catch up and create momentum in your business (90 days minimum).
Your WHY
There is willpower and there is WHY power, willpower eventually runs out but your reasons WHY is something emotionally connected to you. You have to have reasons WHY you want to be successful in this business and in life. The bigger your reasons WHY or the more reasons you have, the more you'll accomplish in this business. You must eventually develop a burning desire!
Don't forget your focused list PDF Templates +Bonuses

How to Succeed in Network Marketing Using your Daily Desire Do List
DAILY DESIRE DO LIST (Mindset Training)
Step 1– Read your focus lists daily
Step 2– Read 5-10 pages of a motivational, inspirational or instructional book daily or,
Step 3– Read and/or listen to something motivational, instructional or inspirational for 30 minutes daily.
Step 4– Practice your script on-tell you master it
Step 5– Do your work based on your goals
Don't forget your Template Downloads below
Desire Pro – Resources

LEVEL PROGRESS
100% Complete
Here are some links for Resources to get you started
Be sure to take the time to process and practice this part of the Network marketing Blueprint before moving forward.

Section 2. Prospect list Pro
How to Succeed in Network Marketing Using These 3 Prospect List Hacks
"S.W" = Some Will Some Won't So What!
Your job is to get as many people or prospects as possible to see the plan. You don't care if they say YES or NO. No just means they aren't ready yet so you put them on your drip list and contact them 3 months later for an update. Your job is to share the plan in a professional manner and get as much decisions in the shortest period of time possible, that is how you launch your business properly and create momentum.
The 4 Checker Scale
Influence, Self Starter, Coachable, Finance Able;
When finding a prospect it is ideal to tick as many of these four boxes as possible. If you find a prospect that ticks all four then they go in your Power 30 List.
Influence- People who are in a position where they can influence others, this could be either to do with their occupation or the fact that they have very good people skills.

Self Starter- You want prospects that are able to get in there and motivate them self to get things done without you having to stay on top of them. Essentially it is your own business so people need to have a Self-Starter attitude.

Coachable- In order for anyone to be successful when entering into a new marketplace or occupation, we need to be coachable. There is always someone more experienced and more knowledgeable to learn from (your Up-line) and being coached by these people is fundamental to growth and success.

Finance Able- There is a start-up cost to be a part of this miracle business that allows you to start and grow and support an international organization from virtually anywhere in the world.
Don't forget your PDF Template + Bonuses at the end.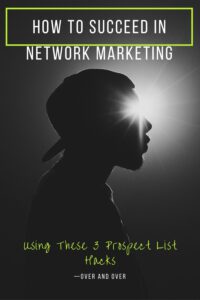 How to Group Your Prospect List


A Good Way to Group your list
1.Trust Ten~ Your Trust Ten are the 10 closest people to you. The people you call on when you are in need and know without hesitation that you can rely on them. Besides that, we recommend that you save your friends and family for later on after you have some success they fall in your Hot Market list.
2.Power Thirty~ Your power thirty are the top thirty people you would choose to put in your organization, and as mentioned earlier, they would most likely tick all areas on your four checker list. If you were starting your own business these are the people you would chooseto have on the front line.
3.Everyone else~ Everyone else on your list goes into this category, most likely eventually all the people in your organization will tick all the boxes in the prospect list but at the beginning, this will not be the case. It's your job to coach them along with our training System or promote to get them to attend other event training from your Up-line or the company that you're with.
Tip,Your people on your list can come from anywhere. Your phone, your facebook friends, facebook groups, your instagram Pinterest, linked in and so on. You don't even have to know them personally. download the templates coming up for more examples.
REMEMBER! Your list is always growing and you're always meeting new people.

THE POWER Of DRIP LISTS


DRIP LIST TIPS
"No" just means not right now~ Just because you present the idea to someone and they say No, it doesn't mean that No is permanent.
Often things in life can be blocking people from moving forward or it can take people some time to get their head around a new idea or business concept. So, if you get a No, just put them on your Drip List with the date and in 3 months time get check in with them and see if they might have had a change of heart or situation.
Secret inside Hack; Call them on Sunday Nights~ When you do get in contact with people on your drip list be a little strategic and call them on the day before they go back to work if you can.
For most people, this is Sunday night. Why? We as a society are incredibly programmed into this Mon – Fri 9-5 grind that we think it is the only way. Sometimes it takes a little bit of time to get people to understand that there are better ways to make money and by calling them on a Sunday night you are reminding them that their freedom and income is controlled by someone else.
Don't forget your PDF downloads at the end of this section.
How To Succeed in Network Marketing – Question 2:
Hi, just wondering did you print out your PDF templates and start working on your list yet? You should get started on that before moving forward so that way your business can be trackable and scalable.


Yes, I started working on my list in my head but I didn't print the PDF Templates yet.
No, I haven't found the time
yes, I've printed my PDF downloads and started working on my list
No, I will start today
Prospect list Pro- Resources


LEVEL PROGRESS
100% Complete
Please, do things to help build your belief in this business. Watch things that inspire you.
When I was just getting into Network Marketing I watched a lot of success stories on youtube and checked out what the top earners are making around the world, but do whatever gets you excited to take action.
Then I eventually start going to all of the events and really getting clarity. So remember to do things to help build your belief in this business because your income is in proportion with your belief. see whats possible HERE
Here are some links for Resources to get you started

Be sure to take the time to process and practice this part of the Network marketing Blueprint before moving forward.

Section 3. Invite Pro
How To Succeed in Network Marketing By Mastering Invites

INVITE FORMULA

FORMULA
BE IN A HURRY- Keep the conversation short and let them know you are in a rush from the start. In Network Marketing people tend to want to ask a lot of questions and make their own assumptions without knowing anything about the business. The aim is to get them to take a look at your presentation so you can introduce them to the information properly.

SHOW VALUE- The aim is to get the prospect to understand the value of being invited to your presentation and the value of potentially being involved in the opportunity without saying what it is.

TAKE THE OPPORTUNITY AWAY- Make it apparent to the prospect that this opportunity may or may not be for them. Another approach is to let them know there are limited spaces available in the Valuable upcoming meeting you are calling about and you need a decision NOW in order to guarantee them a spot in this particular meeting.
INVITE EXAMPLE

EXAMPLE OF INVITING A PROSPECT VIA PHONE
Objective: To invite them to a meeting and get a YES or NO decision on if they're attending before hanging up or leaving. Bam Fam later.
*Phone rings;*
Simone:Hello, Simone speaking
Christina: Hi Simone its Christina, how are you?
Simone: Christina hi! I'm well, tired and busy but I'm well. How are you?
Christina: Good to hear. Yeah, I'm great, super busy also but life is great right now. Hey look I don't have a lot of time as I have a meeting in 5 minutes but I wanted to call you and invite you to take a look at this idea I have to earn an extra income, part-time. (pause and listen to Simone) I know you're very ________ so I wanted to get your opinion on it.
Christina: I'm working with some very successful people right now some are making anywhere from $5000 monthly or even an extra 6 figures yearly with this 9 part training system we have in place. Does that sound like something you would be interested in?
Simone: Wow yeah that sounds interesting and I'm always up for having a better income. What is it?
Christina: I really don't have time to go into detail right now and I'm sorry to call you in such a rush, it's an opportunity that involves working with people and I know you have great _________ , which is why I thought of you first. Are you free on Tuesday night this week for about an hour or so that way you can get more information about it?
Simone: hmmm okay well yeah I guess I have an hour free on Tuesday, what time?
Christina: It's 7:30pm
Simone: okay well can I get back to you tomorrow and let you know?
Christina: Look It may or may not be for you, and again I'm sorry to call you in a rush but I will need to know now if you can make it or not as there are limited spaces at this meeting and if you can't make it to this particular one there are a few other people I would like to invite but I thought of you first.
Simone: Oh Okay I see well, in that case, count me in! I never shut a door that is opened for me and it sounds like something I would be interested in. Thanks for thinking of me.
Christina: You're so welcome, and I'm really looking forward to seeing you and catching up tomorrow night. But if for any reason you can't make it, please give me a call and let me before hand so I can give your spot to someone else.
Simone: Okay sounds good and I will definitely let you know if I can't make it.
Christina: Thank you and thanks for your time Simone, talk to you later! Have a beautiful day and I will see you Tuesday night at 7:30!
Christina: You too! See you Tuesday! Bye
Simone: Bye.

How To Succeed in Network Marketing by following these 7 Rules for Inviting.

INVITING RULES
Remember:
Never explain the information over the phone or casually. Make sure you ONLY show it to them properly in a presentation.

Customize your invite for the person you are dealing with. Have fun with it.

Don't go out to prospect, prospect when you are out.

Have quiet confidence, you don't need THEM in your business, they need YOU.

It's good to invite people you already know with as short notice as possible so life doesn't get in the way.

Always confirm your invite is coming.

The bigger your list of prospects and the shorter the period of time you get through your list means the more momentum you will gain and the more income you'll make in this business. Period! This is how you launch your business like a Pro.
How To Succeed in Network Marketing – Question 3:
If someone ask you what your opportunity is about on the spot and they insist on getting a answer what do you do? (Multiple Choice, pick 2)
Give them a quick description if what it is and show them the rest later.

Tell them everything you know about the company you're in.

Tell them you can send it to them some time this week and set a date and time.

Tell them forget it and don't show them.

Book a time in the future where you can show it to them properly, but let them know its worth it.
How To Succeed in Network Marketing with Cold Market Prospects
INSIGHTS & QUESTIONS FOR 'Cold Market' Prospects
Q1. What do you do for work/job?
*Listen and get answer
Q2. How long have you been doing that for?
*Listen and get answer
Q3. You must love what you do? *Listen and get answer
Q4. Ask them if they are open to making some extra income on a part-time basis?
*Listen and get answer
If the answer is yes then…Take their contact info down and contact them at a later date to set an appointment, so they can see the information or presentation the proper way.
*If they ask you what you do tell them my business partners and I have a system in place that can help people to create a six-figure income working part-time online.
Or we take professionals and non-professionals and enroll them into a 6 to 18-month program that teaches them how to create a 6 figure income working on a part-time basis. (Remember, this doesn't have to be word for word. These are just examples to give you insight.)
*If they ask you how much you are making and it's in the early stages where you still haven't gained the full momentum with your income answer something like this:
" I'm still earning income from my past efforts and I'm continually putting forth more effort every day. It could turn into thousands or even millions depending on how hard I work. My income is still growing " Remember the rules and the formula with all scenarios.
Tip; Repeat their name 5 times within conversation as it makes it easier to remember it, because saying their name within conversation makes them comfortable quicker. Giving sincere compliments also helps.
DIFFERENT APPROACHES TO INVITING
EXAMPLES OF DIFFERENT APPROACHES TO INVITE
'I'm looking for sharp people approach'

'I need 10 people approach, can you be one of the 10 for me?'

'The indirect approach' (ask them if they know anyone that might be interested in making some money part time using the internet.).

'I found the gold mine approach', (be excited).

'I need your expert opinion approach'.

'I thought of you first approach'.

If I found a way to make a fortune working part-time on the internet, would you want to know about it? Approach

'Their's some guys making a fortune on the Internet, we need to take a look at what their doing' approach.

If you had the opportunity to work with Apple and and make a percentage off every apple watch sold would you have done it? (Listen, let them answer) Well, I can't really explain but you need to take a look at this…
TIP- Keep in mind in the year 2020 Texting is the number one way of making an appointment for someone to take a look at the opportunity by 400% or more compared to phone calls.
Invite Pro – Resources
LEVEL PROGRESS
100% Complete
Remember to do your daily desire do list daily
Here are some links for Resources to get you started
Be sure to take the time to process and practice this part of the Network marketing Blueprint before moving forward.

Section 4 – 3-way Pro
How To Succeed in Network Marketing Using The Power of 3-Way Calls
The 3-Way Formula
-3-Way calls are good for closing a sign-up when the person you shared the information with wants more information-
Make sure you have already invited and got the prospect to see the presentation before you do an edified 3-way call with your coach.
Make sure you schedule a time for your edified 3-way call with your training Coach as their time is very valuable.
Make sure you're on time and honor that time.
This is a good way of giving another exposer to your opportunity. Giving them a e-tool is also another way of giving more exposer to your business.